Entry to Year 7 2023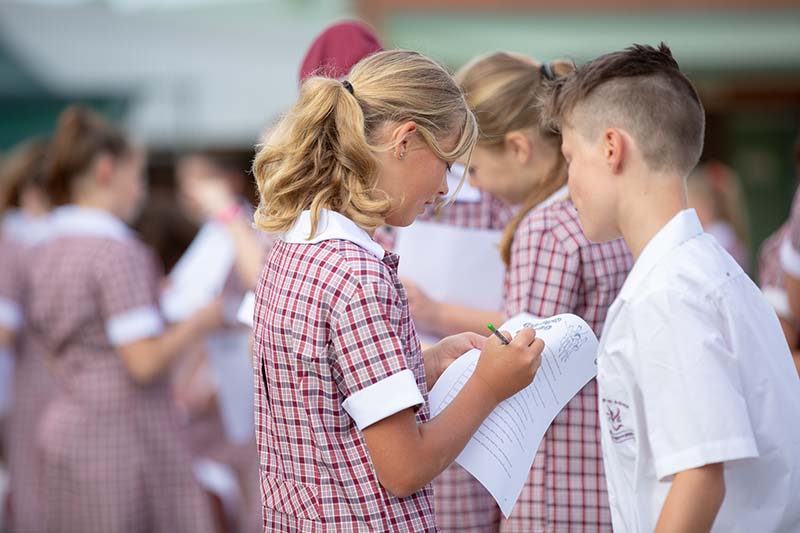 Parent Handbook and Enrolment application forms are available here and available from the College Office (contact the Office 8.00am – 4.30pm on 03 5866 2222).
pdf Parent & Student Handbook (3.90 MB)
pdf Enrolment Form (566 KB)
Enrolment Policy
An Information Evening is held at each of the venues below each year. All evenings will commence at 7.30pm. These evenings are to give parents an introduction to the College, its history and to answer questions about the College.
In 2023 Information Evenings will be held at:
St Mary of the Angels Secondary College, Nathalia - Monday 2nd May, 2022
Cobram Italian Solcial Club, Cobram - Wednesday 4th May, 2022
St Josephs Primary School, Numurkah - Monday 9th May 2022
Tocumwal Golf Club, Tocumwal - Wednesday 11th May, 2022
OPEN DAY - Wednesday 18th May, 2022
Enrolment applications close on Friday 24th June, 2022. It is necessary to have a clear indication of Year 7 students for 2023 by this date so that appropriate planning can take place.
A Year 7 Information night and introduction to classmates will take place on a date to be confirmed (Contact the College Office). A presentation will be conducted by the Principal and teachers to provide prospective families, with valuable insights into the operation of the College and the major issues associated with the transition of students from primary to secondary education. Teachers and students will be available to conduct school tours and to answer questions from parents and students relating to enrolment and all aspects of College life.
Transition Day for 2023 Year 7 students is scheduled to take place on Tuesday 3rd May, 2022
Orientation Day for 2023 Year 7 students is scheduled to take place on Tuesday 6th December, 2022.
Academic Scholarships Offered
Academic Scholarships will be offered to Year 7 students enrolling in 2023 and Year 10 students in 2023. This Scholarship will have a life of 3 years. The scholarships will be offered to students on the condition that academic performance continues to be of a high standard in ensuing years together with a commitment to the College. Scholarships are open to all students who are enrolling in Year 7 or continuing in Year 10.
Scholarship paperwork will be available from Tuesday 26th April 2022 from the College Office or by clicking the link below. Applications close Tuesday 31st May, 2022 at 12.00pm. LATE applications CANNOT be accepted.
Click Here to Request an Enrolment Pack (includes Scholarship Information)
Year 8 – 12 Entry
Applications may be lodged with the College at any time in the school year, however, parents should be aware that some classes might be full after the elective selection process is completed. This may result in some limitation to subject selection. Applications lodged by early August should enable students to participate in the full selection process for the following year.