English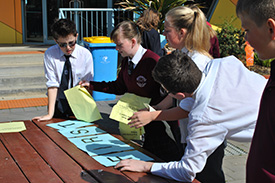 St Mary of the Angels is committed to providing our students with the best possible opportunities to develop their reading, writing and speaking/listening skills. Throughout each year level staff equip our students so that they can explore, discuss and imagine a range of texts and themes that build skills and build the confidence of all our students. Our teachers are committed and passionate and are constantly challenging themselves to deliver the best possible English curriculum.
Current English Texts Studied (2018)
Year 7 - 'Matilda' by Roald Dahl; and 'Trash' by Andy Mulligan
Year 8 - 'Frankenstein' - graphic novel by Jason Cobley; 'The Giver' by Lois Lowry; and 'Tomorrow When the War Began' by John Marsden
Year 9 - 'Other People's Country' by Maureen Helen
Year 10 - 'First They Killed My Father' by Loung Ung; 'Macbeth' by William Shakespeare
VCE
Year 11 - 'Night' by Elie Wiesel; 'Growing Up Asian in Australia' edited by Alice Pung; 'To Kill a Mockingbird' by Harper Lee; 'Twelve Angry Men' by Reginald Rose
Year 12 - 'The Complete Maus' by Art Spiegelman; 'Island' by Alistair MacLeod; '1984' by George Orwell; and 'Stasiland' by Anna Funder
VCE Literature - Units 1-4
'Heart of Darkness' by Joseph Conrad; 'My Brilliant Career' by Miles Franklin;'Twelfth Night' by William Shakespeare; 'Close Range: Brokeback Mountain and Other Stories' by Annie Proulx; 'The Dreaming and Other Essays' by Weh Stanner
Literacy Week
During this week our students will have the opportunity to involve themselves a large range of fun and exciting activities such as:
- Trivia Challenges
- Homeroom Spelling Bee challenges
- Book character Dress up Day
- Poetry Writing Workshop
- Poetry Recital Competition
- Public Speaking Competition
- Nathalia Community Library Tour's
Australian Curriculum
"The study of English is central to the learning and development of all young Australians. It helps create confident communicators, imaginative thinkers and informed citizens." - Australian Curriculum.
Humanities
The domain consists of the study of History, Geography, Civics and Economics.
Why study History?
"If you want to know who you are and where you're going to…..then you need to know from where you come!" African Proverb – "Until lions have their historians, the hunt will always glorify the hunter."
Why a focus on Geography?
You'll know the way to San Jose.
History will make a lot more sense.
You'll actually know where those coffee beans come from!
One of the most admired women in history, Mother Teresa, was a geography teacher.
Michael Jordan was a Geography major so you can be like Mike and make millions of dollars.
When the GPS says "Continue straight ahead" and it's a cliff face, you might know you're in the wrong place.
You won't buy a Vline ticket from Melbourne to Hobart.
You will be able to "find your way out of a paper bag".
Study Geography to Understand Our Planet (Global Warming, el Nino, Political Borders, etc.)
Study Geographical Regions (If you're Marketing Manager for "NW Australia", you'd better know where that is and what it's like!)
Being A Well-Educated Global Citizen (Learn to think, research and communicate – what career doesn't need these skills?)
All of which points to Geographers knowing stuff and being able to solve problems. This is exactly what managers of most businesses do every day.
Why know about Civics?
Australia is one of the few Western democracies which compels her citizens to vote.
Why have Rules and Laws?
What constitutes a good leader?
How does one balance individual rights and responsibilities with those of the communities to which we belong?
Become an

informed

citizen!
Why Economics?
Economy and Society develops knowledge and skills in the basics of:
Money
Trade
Finance
Commerce
The World of Work