At St Mary of the Angels we offer a range of Performing Arts in the areas of Drama, Music and Musical Production. Our Auditorium room is a specifically designed area, and a fantastic venue for performances. All students study Performing Arts in Year 7, and then may choose to continue through their middle years and into VCE.
Drama
In Drama our focus throughout all year levels is on imagining and creating for different reasons, encouraging students to step out of their comfort zone and explore their creativity through the Elements of Drama.
Year 7: Improvisation
Year 8/9: Improvisation and 'Thank God you're here', Acting techniques and Monologues.
Year 10: Collage Drama and Epic Theatre
Year 11 & VCE Drama: Dramatic Story Telling and Australian Drama
Music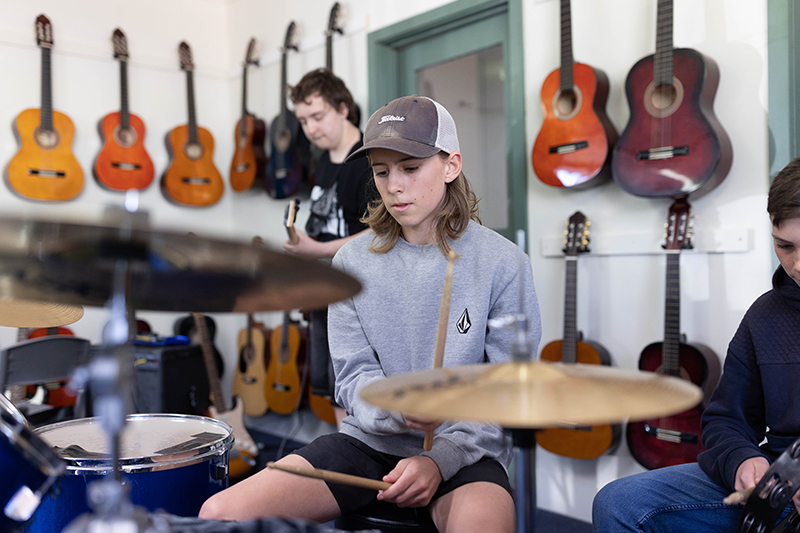 In Music our focus throughout all year levels is exploring and responding to various music types and participation in creating and making music. We do this through theory of music, history of music, and performance practice.
Year 7: Beginnings of rhythm and pitch. We make use of tuned and untuned percussion.
Year 8/9: Students studyWorld Music, and the history of Jazz and Rock and Roll. They continue to develop musicianship skills and practical work.
Year 10: Continue to practice on their chosen instrument(s), and develop musicianship and performance skills.
VCE Music: Individual and group performance making and music craft.
Production:
St Mary of the Angels prepares one major production each year. We have performed many shows, including Annie, Pirates of Penzance, The Little Mermaid, The Drowsy Chaperone, and most recently, Hairspray. Any student who is interested in participating in productions is welcome, whether to participate on stage, backstage, helping with hair and make-up or in lighting and design.
Click here to see a list of default List of SMOTA Productions (149 KB)